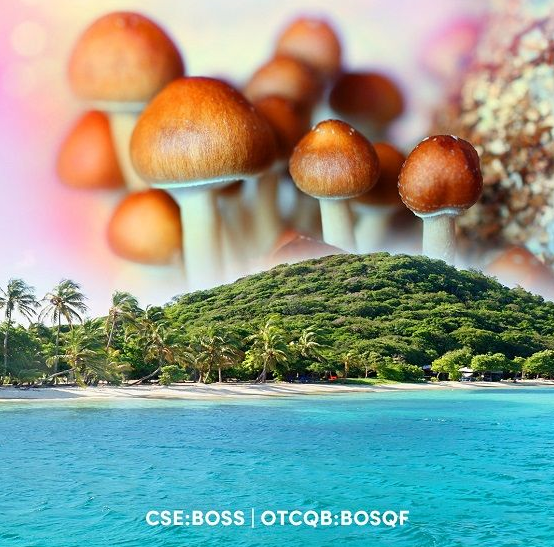 Vancouver, British Columbia--(Newsfile Corp. - January 7, 2020) - The Yield Growth Corp. (CSE: BOSS) (OTCQB: BOSQF) (FSE: YG3) announces its subsidiary Flourish Mushroom Labs Inc. entered into a binding letter of intent on January 4, 2020 with Acres Agricultural Canada Corp. ("Acres") to jointly form a company in Saint Vincent and the Grenadines, Acres Flourish Labs (SVG) Ltd. ("AF Labs"), to build a laboratory for the cultivation of psilocybin mushrooms and for research and development into compounds and therapeutic use of psychedelic mushrooms.
Saint Vincent and the Grenadines
The agreement contemplates that the proposed research and development of psilocybin for therapeutic use is within the purview of St. Vincent's Plant Breeders' Protection Bill, 2019 and the wider establishment of a viable and sustainable modern medicinal industry in St. Vincent and the Grenadines ("St. Vincent"). The proposing parties are aware of and keenly interested in the conducive climatic conditions as exist in Saint Vincent for the controlled cultivation of psilocybin mushrooms, coupled with the existing offshore medical academic programs which can create an ideal environment for the advancement of the necessary scientific studies in Saint Vincent.
"Acres Agricultural is very pleased to announce this collaboration with Yield Growth Corp. and Flourish Mushroom Labs Inc," says Patrick Power, CEO of Acres. "Through AF Labs we aim to further the global research and associated medicinal use of psilocybin, while contributing to the development of a new medical frontier for the country of St. Vincent and the Grenadines."
"We are very excited to be the first publicly traded company to announce a legal path to cultivate and research psychedelic mushrooms," says Yield Growth and Flourish CEO Penny White. "There is a renaissance of psychedelic medicine for which investor interest could go viral at any time. We are planning to enter this space with first mover advantage to deliver value to our shareholders."
Terms of the Agreement
The parties have agreed that AF Labs will build a laboratory in Saint Vincent for the cultivation of psilocybe semilanceata (a polyphyletic mushroom), the extraction of psilocybin and the research and development of the strains, compounds and therapeutic uses of the mushrooms. The initial capital structure of AF Labs shall be 50% owned by Acres and 50% owned by Flourish. Flourish shall contribute $200,000 for initial operating capital as a secured loan with an annual interest rate of 8%. Additional capital for AF Labs will be funded equally by Acres and Flourish or by capital raises as approved by the directors of AF Labs. Each of Acres and Flourish shall appoint one director to the board of AF Labs and one director who is approved by both parties shall be appointed for a total of 3 directors. The parties shall negotiate to enter into a final definitive agreement no later than February 10, 2020 and close the transaction prior to March 1, 2020. Closing of the agreement shall be subject to several condition precedents, including approval by the government of St. Vincent and completion of due diligence by both parties. AF Labs has submitted a proposal to the SVG government for the legal establishment of the business, which has been approved. Flourish has agreed to pay a finder's fee to a non-related party of 100,000 shares in Yield Growth, and 200,000 options in Flourish at $0.10 per share.