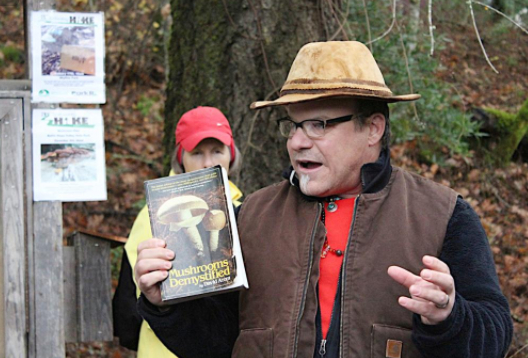 Humans are increasingly catching on to the myriad of benefits mushrooms offer us, with enthusiasm for what the humble fungi in all its permutations has been doing for us and our planet for millennium.
There are reishi mushrooms, made into a coffee with health benefits, oyster mushrooms that eat oil spills, and mushrooms that communicate with other species within a forest warning them of oncoming wildfires.
Napa County is home to many mushroom varieties, some of which can be found at Bothe Napa Valley State Park.
Naturalist Jonny Ehlers leads educational hikes as part of the Napa Open Space District's Hiking Series & Adventures at the park. On a recent mushroom hike, more than six times the usual amount of hikers showed up for the event. Open Space officials said the large turnout was likely due to the cooperating weather, damp but not raining, and a growing interest in mushrooms.
Ehlers guided intrepid hikers through the park's trails, and over a swift flowing stream, stopping frequently to point out mushroom growths and explain their purpose within the forest ecosystem, including the many benefits humans use them for.
Versatile mushroomsMany kinds of mushrooms, like Portobello and Chanterelle are delicious for eating, and others also provide health benefits. Turkey Tail, for example, helps boost the immune system.
"I take Turkey Tail like medicine. They go in like Ninja's and kicks butt on anything that wants to take me down," Ehlers said.
Mushrooms can also be beautiful and strange looking. The Turkey Tail mushroom "Looks like something from outer space," one hiker commented.
Ehlers wears a hat made from the Amadou mushroom, which grow primarily in Europe. The hat was made in Romania.
The Amadou has other purposes as well.
"Early humans would take this mushroom and pound it, and pound it, and pound it. The dust that comes off it are ingredients for gun powder," Ehlers said.
Embers from the Amadou mushroom could also be carried from campground to campground, instead of having to light a fire by friction. "So you could take your fire over the hill to your new camp and you already had embers ready to start your next fire," he said.

Mushrooms helping
the planet Mushrooms are the 'Internet' of the forest. They know, for example, if a tree is deficient in which kinds of nutrients, and will even seek out those nutrients "Like a scout, and guide the root to those nutrients and/or take those nutrients in and give them to the tree," Ehlers said. "Every single plant that is healthy around here, has that connection and has had that connection for thousands and thousands of years. After the (historically) mass extinctions, plants that had that connection thrived, those that didn't, died. The mushrooms literally helped them thrive."
Eating oil spillsMycologist (mushroom expert) Paul Stamets is well known as an environmentalist and for conducting a study in which oyster mushrooms actually ate spilled oil.
Stamets was invited to be part of a study in Washington, about a decade ago, where a busing company was found guilty of spilling oil and coolant into a parking lot. He put oyster mushrooms all over the oily gravel, covered it with a tarp and left it to sit for eight weeks.
When he came back, the pile was covered by oyster mushrooms. After testing the flesh of the mushrooms, no petroleum was found. Neither was there oil found in the gravel.
"The mycelium ate the oil and used it to make itself bigger and stronger and put itself into that state of reproduction. Stamets explains how mushrooms help us get out of problems we humans love to get ourselves into," Ehlers said.
Mushrooms are now being used for all kinds of enviromental remediation. They can also sequester methane and "tons and tons of" carbon dioxide, Ehlers said. They hold water in the soil structure and suck it out of the air, and feed it to the plants.
"Mushrooms are helping us with climate change. The largest organism on our planet are fungi. They are connected. Fire happens over there, and they are warning these trees over here. They are telling the Redwoods, send your water and your sugar down to your roots and wait for the fire to go by," he said. "Stamets will tell you the mushrooms know where you are right now. They know where the squirrels are running around because they can feel them walking on them."
After the wildfires over the past few years, Oyster mushrooms were also used in waddles, those wormy looking devices used to contain erosion, and to absorb toxins.
"You could put a gunny sack of oyster mushrooms in a parking lot, send a river of toxins down through and it would come out clean the other side. Man is getting smart, figuring out nature figured it out a long time ago. We just have to follow nature," Ehlers said.