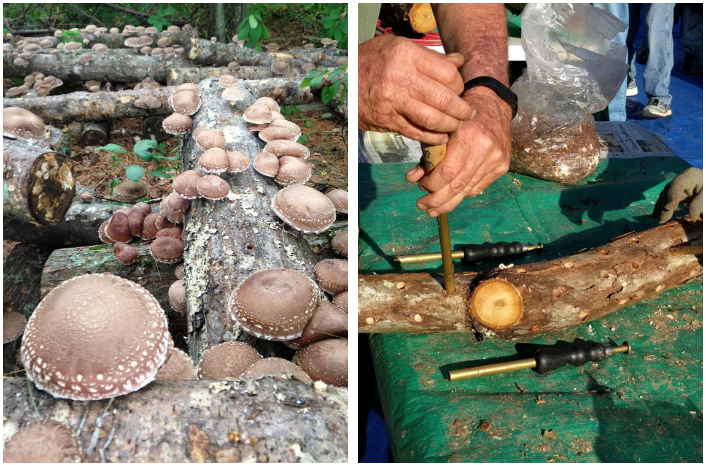 Gregg Hutson's shady backyard would be a wet blanket for most gardeners. Not for Mr. Hutson, who grows mushrooms at his home in Takoma Park, Md. "It's pretty spongy," says the 43-year old advertising agency copywriter, stepping around some chanterelles. "Great mushroom-growing conditions."
Mushrooms—the ones intended for culinary purposes—are in. More than 400 food products featuring mushrooms were introduced in 2017, up 22% from a year earlier, according to Innova Market Insights. The rise of the mushroom comes as more consumers seek so-called functional foods that promise to do more for the body than just provide nutrition. Whole Foods Market has called "functional mushrooms" one of this year's top food trends, and labels on teas and other elixirs increasingly hail mushrooms as "adaptogens"—ingredients makers claim help the body fight stress.
And with prices that can run north of $10 a pound for certain specialty mushrooms, many people are figuring out how to grow their own.
In Catonsville, Md., 40-year old biologist Peter Sykora this spring began collecting mushroom spores from oyster, shiitake and morel mushrooms he bought at farmer's markets. Spreading out the mushrooms on aluminum foil overnight, he was able to collect the powdery deposits. He first put the spores in bits of wet cardboard to encourage initial growth called mycelium. about two weeks ago, he placed the mycelium in buckets of woodchips and straw outdoors to encourage further growth. In the coming months, he will transfer it all to a 4-by-4-foot plot in the shade of his backyard, filled with layers of logs and woodchips. The mycelium eventually produces mushrooms.
Dr. Sykora says he was sometimes taken aback at the price of unusual mushrooms and wanted to try growing his own. The exceptionally wet spring, optimal for mushrooms, has been a boon. "It inspired me," he says.
Classes on growing mushrooms are seeing similar enthusiasm. Cathy Wheeler, co-owner of Borrowed Land Farm in Pilot Mountain, N.C., says the classes she offers have grown in size to 30 students this year from about 15 in past years. In Frederick, Md., garden-design firm Ecologia has increased its number of classes on mushroom cultivation and limited them to 20 people. "We have a wait list," says owner Michael Judd, who also includes mushroom plantings in his garden designs.
Businesses that sell so-called spawn—sawdust that has already been inoculated with mycelium—say the main types that can be grown at home are oyster, shiitake and wine-cap mushrooms. Shiitakes are best grown on oak or other hardwood logs: hobby growers drill holes an inch deep into logs, insert spawn, cover the holes with melted wax, then water regularly to keep things moist and wait about a year. For oyster mushrooms, some people make "totems," sandwiching two logs together with spawn in between. Wine-cap mushrooms, grown with spawn tossed in layers of woody mulch under trees or in garden beds, can emerge in just a few months. Under the right conditions, mushrooms can come back for years.
Mushrooms can tolerate a wide variety of climates, but generally need a period of about six months of temperatures between 40 and 90 degrees, says Joe Krawczyk, co-owner of Field and Forest Products Inc., a Peshtigo, Wisc.-based mushroom-growing supplier. Some wild mushrooms are poisonous, so growers should thoroughly familiarize themselves with pictures of their intended crops. "You definitely want to know what you're growing," says John Pecchia, a professor in plant pathology at Penn State University.
Last spring, Al Gracian planted wine cap mushroom spawn beneath five beds of bushes, herbs and asparagus at his home in Pittsburgh. When mushrooms appeared a couple months later, "I was a little bit hesitant," says the 39-year old graphic designer, who has a YouTube video channel on urban gardening. The mushrooms in pictures looked more reddish than those appearing in his garden. To make sure, he took some photos and emailed them to the spawn-supply company—and got confirmation the next day that they were indeed wine caps.
Scientists say calling mushrooms "adaptogens" is a loose term. "I would rather see a specific compound and its cause and effect," says Mark Moyad, a director of complementary and alternative medicine at the University of Michigan Medical Center. However, mushrooms are a plant-based source of vitamin D and contain beneficial amino acids and minerals, says Kantha Shelke, principal at Corvus Blue, a food science and research firm.
In the last three years, more than 1,000 restaurants have adopted a hamburger blend containing at least 25% chopped mushrooms as a healthier alternative, according to Kris Moon, a spokesman for the James Beard Foundation's Blended Burger Project, which began in 2015. Fungi are also on the rise in other dishes; Ox Restaurant in Portland, Ore., for instance, typically has a half-dozen mushroom varieties on the menu. The locally sourced mushrooms give the steakhouse a Pacific Northwest vibe, says chef and co-owner Greg Denton.
"Our growers are hearing it from chefs," says Darlene Wolnik, senior research associate with the Farmer's Market Coalition, a membership organization that represents 4,500 farmer's markets. She says more farmers are taking on mushroom growing as they look to supplement traditional row crops. Mushrooms grow in shady land that is difficult to use otherwise.
In Maryland, Mr. Hutson had tried growing tomatoes and peppers, but it was a struggle in his backyard surrounded by tall oak trees. It dawned on him that mushrooms might work. For less than $20, he purchased spawn that has kept oyster mushrooms growing on logs by his front door at a rate of about a pound a year for the last two years. "The amount of mushrooms was worth the initial outlay," he says.
In McAlpin, Fla., Jan Paul and her husband Bill, both retired, grow four different kinds of mushrooms on their property. Ms. Paul says she is intrigued by health benefits of mushrooms, but also loves their texture and taste. One variety called Lion's Mane, she says, tastes like lobster. "It is priceless to me," she says. "That is one we don't share with friends, unless they happen to be here for dinner."