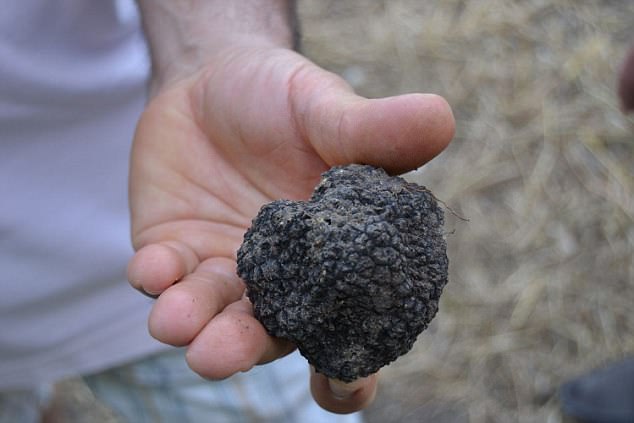 Prized by the world's top chefs and known as black diamonds for the astonishing prices they fetch, truffles are usually found buried in dank woods.
However, the specially trained dogs and pigs used to find the rare edible fungus among tree roots could be out of a job after a wild black truffle was found growing in the roof garden of a Paris hotel.
The most sought-after ones, which can cost almost £9,000 a kilogram, are found in southern France, Italy and Spain.
But a 'tuber brumale' truffle, worth £85 a kilogram, has grown at the foot of a hornbeam on the Mercure Paris Centre Tour Eiffel Hotel.
The Museum of Natural History in Paris, whose ecological researcher Frederic Madre made the find, said: 'The discovery of this wild truffle is a wonderful example of how roof gardens and green roofs have a huge potential for urban biodiversity.'
The rise of the urban roof garden can be credited for the find in the French capital, within the shadow of the Eiffel Tower.
A black 'tuber brimale' truffle was discovered at the foot of a hornbeam tree on the roof of the Mercure Paris Centre Tour Eiffel hotel.
Experts have also raised the question of whether the micro-climates found in roof gardens might be particularly favourable for truffles.
Truffles, known as 'black diamonds', are so precious because of their rarity. They take around seven years to grow and in Britain, where there are just under 100 varieties, only three or four are edible.
Varying from the size of a penny to a tennis ball, they form a symbiotic relationship with the roots of host trees which include beech and hazel trees.
Coming just before Christmas, when truffles are used to flavour such seasonal foods as foie gras and chestnut soup, the find will raise the hopes of other urban gardeners.
British truffle expert Caroline Hobart said: 'Truffles occur from spores and need moisture and warmth to flourish, just like the mould people find growing in their homes.'
Experts from the museum and mushroom specialists from the French Institute of Evolution and Biodiversity are now trying to work out how the truffle got onto the roof and if the ecosystem in Paris could provide more.