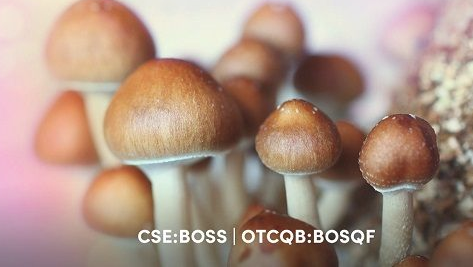 Vancouver, British Columbia--(Newsfile Corp. - November 21, 2019) - The Yield Growth Corp. (CSE: BOSS) (OTCQB: BOSQF) (FSE: YG3) is pleased to announce it has entered into a definitive agreement for the exclusive distribution of Yield Growth's line of mushroom infused organic coffees being developed through subsidiary Flourish Mushroom Labs Inc.

The distribution agreement grants exclusive distribution rights in Greece, Cyprus, Romania, Bulgaria and Serbia for the organic mushroom coffee line being developed by Yield Growth subsidiary Flourish Mushroom Labs to 2699598 ontario Corp. O/A Melorganics Hellas. The term of the agreement is three years and exclusivity is maintained provided that minimum orders of $100K per year are met. The initial line of mushroom coffee mixes will be organic and infused with various wild mushrooms such as Lion's Mane, Turkey Tail, Reishi, Shitake, Chagas and Cordyceps. Distribution will begin in Europe after regulatory approvals have been obtained.

In the second quarter of 2019 Greece was the fastest-growing Eurozone economy, according to eulerhermes.com, driven by strong growth in public consumption.

"Mushrooms are a unique source of vitamin D and some B vitamins… Mushrooms have long been used in Chinese medicine and newer research shows they are the highest dietary source of the antioxidants ergothioneine and glutathione, which help protect the body against the type of damage that can eventually contribute to age-related diseases like cancer, heart disease, Parkinson's and Alzheimer's," says Beth Warren, RDN, founder of Beth Warren Nutrition, as reported in Yahoo Lifestyle.

Flourish Mushroom Labs has also announced its intention to develop clinical trials to research innovative therapeutic uses of certain compounds found in magic mushrooms, such as psilocybin. COMPASS Pathways, a life sciences company dedicated to accelerating patient access to evidence-based innovation in mental health, has received Breakthrough Therapy designation from the US Food and Drug Administration (FDA) for its psilocybin therapy for treatment-resistant depression.

According to Drugpolicy.org, "Today, there are dozens of studies taking place to evaluate the medical safety and efficacy of psychedelics, including psilocybin, and the potential benefits of psychedelics as a treatment for cluster headache, anxiety, addiction to alcohol and other drugs, depression, obsessive-compulsive disorder, as well as neuroimaging experiments furthering the understanding of its effects on the brain."

about Flourish Mushroom Labs Inc.

Created by and incubated by the team at The Yield Growth Corp., Flourish Mushroom Labs aims to be a leader in the fast growing functional foods market-and improve life by offering high-quality mushroom-infused products that naturally support better health. Flourish Mushroom Labs is investigating patentability of innovative therapeutic uses of magic mushrooms and plans to research into therapeutic benefits of some of the compounds found in magic mushrooms through clinical trials.