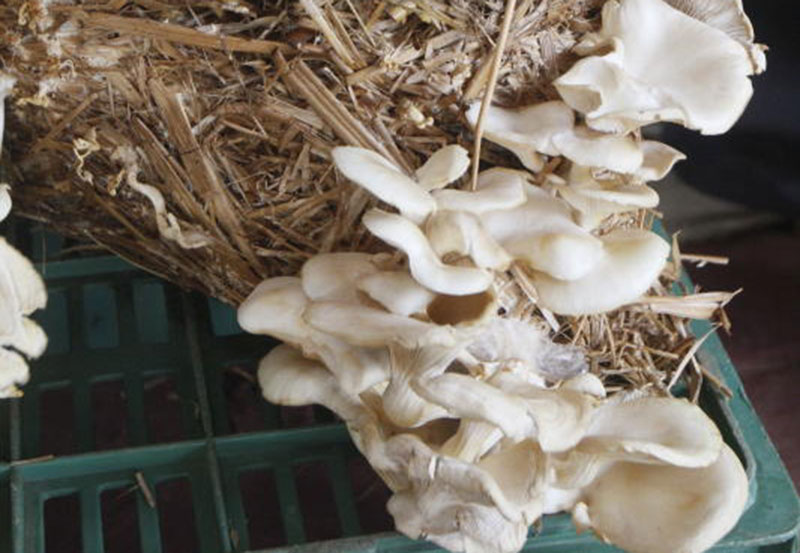 An empty corner inside a dark garage is where Million Skoda runs a thriving mushroom farm in Ridgeways along Kiambu Road.
Ms Skoda hit the road running after a two-week training on how to domesticate the oyster mushroom, at Jomo Kenyatta University of Agriculture and Technology (JKUAT).
After the training conducted by a team of researchers led by Mr Alfred Barasa of JKUAT, Skoda invested in seeds and planted the initial 10 bags of the delicacy.
"I met Barasa, the mushroom researcher at our local church in Ridgeways when he explained to the congregation about the numerous possibilities in mushroom farming. I expressed my interest and decided to go for the training," she says.
She was one of the farmers who visited the JKUAT stand during the ongoing Nairobi International Fair at Jamhuri Showground.
Simple structures needed
During the show, Barasa manned several mounts of hay and other growth media from which different varieties of mushrooms grew.
The mention of their name hints on a sea plant but the oyster mushroom, whose origin is Germany has nothing to do with water.
The fungi grows on trees and other decaying matter.
That is why, as Barasa explains, its domestication requires a lot more than remains from processed plants.
According to Barasa, research in mushroom farming at JKUAT shows that a lot is still unexploited.
"Mushrooms is one of the most under cultivated crops in Kenya. As we speak, there is a serious shortage of mushrooms yet many people are turning to the commodity to tame lifestyle diseases," says Barasa.
Grown on balconies
He expresses concern that at the moment, farmers can only harvest an average 100 kilos of mushrooms.
"The crop requires minimal input but gives a lot of output. It is one of the crops that thrives on soilless farming and can be planted in any simple structure. I have trained farmers who have even rented rooms to plant the mushrooms," says Barasa.
It is nowadays common to see city dwellers using their small balcony spaces and garages to grow their mushrooms.
The inquiries at the JKUAT stand on mushroom growing was testament that it has solid potential.
"I attended this show specifically to get seeds for my next mushroom crop. Now I have a steady supply of mushrooms for my meals," says Skoda.
Large scale farmers at the show also expressed their interest to try their hand in this unchartered territory.
James Kangogo, for instance, has for years been approached by seed companies to multiply seed maize on his 2, 500-acre farm in Baringo.
It has been a lucrative venture, save for what the 53-year old veteran farmer calls obvious challenges facing the seed industry in Kenya including fluctuating market prices and the rising food imports.
Like other showgoers, Kangogo expressed optimism of attending a training on mushroom farming.
"I am planning to attend the training at the university to get tips in mushroom farming. I want to know everything about the cost of production, where I will find market and also what I will make out of it. The researcher has assured me that mushroom farming is lucrative," says Kangogo.
According to Barasa, a kilo of dry mushroom sells at Sh400. The shiitake mushroom, a variety popular in Asia where it is the ideal traditional medicine fetches equally juicier returns on the Kenyan market.
A kilo sells at Sh1,300. But it isn't just the cash that makes the oyster mushrooms appealing in Kenya.
It is sought after for its richness in vitamins and nutrients that keep away lifestyle health issues such as blood pressure and diabetes.
In fact, researchers at JKUAT say the oyster mushroom is increasingly gaining popularity especially among the middle class urban dwellers where it is slowly replacing red meat.
Fights lifestyle diseases
"When dry, the mushrooms have 20 per cent protein. This is the same amount found in red meat. But it is also rich in vitamins D and C and is also rich in minerals and irons," explains Barasa.
Research on oyster mushroom has found that it has elements that fight atherosclerosis which is the dangerous accumulation of fats in the arteries, diabetes, high cholesterol and respiratory tract infections.
A 2011 study by National Centre for Biotechnology Information determined that an oyster mushroom extract boosts immunity and can help fight tumours in human beings.
The study was arguably a major gain in the fight against certain types of cancers.
"Indeed, mushrooms have a whole load of benefits," says Barasa.