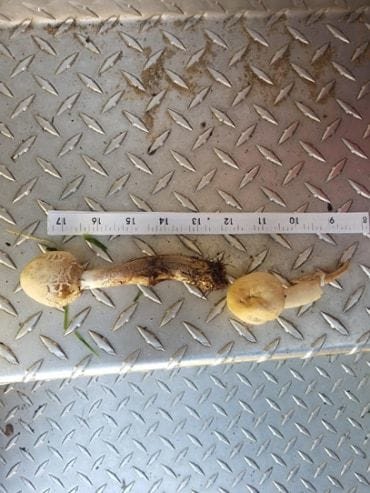 The mushrooms probably looked tasty.
But officials said a family picked some that they found in the courtyard of their local apartment complex in Annandale, Va., and got quite sick.
The incident unfolded when the family experienced vomiting and stomach pains a few hours after eating a meal they made from the "unknown wild mushrooms," according to Fairfax County Fire officials who helped the family.
None of the mushrooms were still in the family's home, so crews from the fire department and poison control looked in the courtyard for other mushrooms to try to figure out what kind the family had eaten. They found them, eventually, sending pictures back and forth to the family members, who were treated at a local hospital, of what they saw in the courtyard.
The mushrooms the family ate were later identified as "Chlorophyllum molybdites," otherwise known as green spored Lepiota, also called "false parasol" and the "vomiter." These types of mushrooms, officials said, are known as "a severe [gastrointestinal] irritant." But luckily for the family, fire officials said, they do "not cause liver failure or death."
Some mushroom types are very toxic to the liver, in particular one called "Amanita phalloides," or the Death Cap. Experts warned that people should not eat wild mushrooms unless they know what kind they are.
"Knowing the mushroom species can be critical in the management of these ingestions," officials said in a statement.