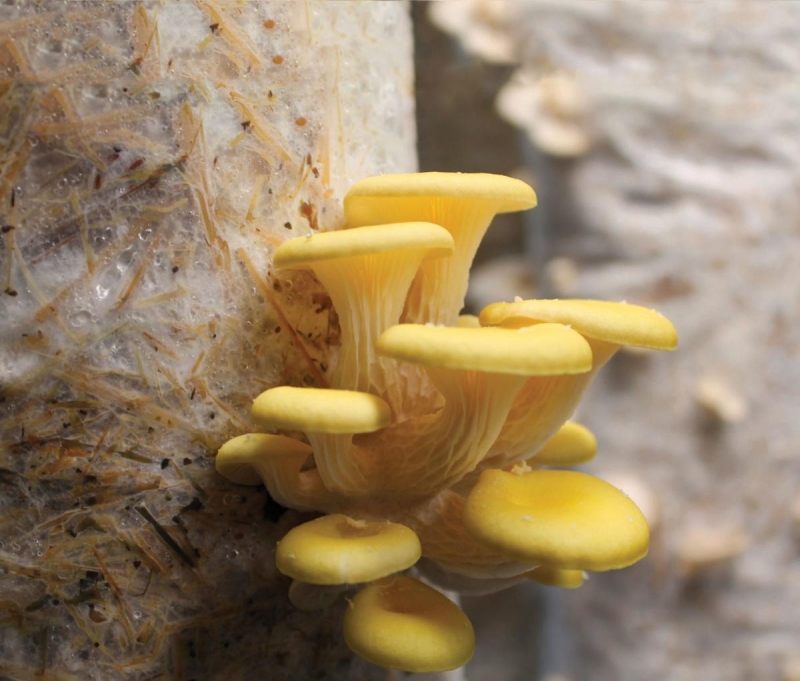 In the season of farmers' markets and fresh produce in the Northeast, foodies are blessed with the opportunity to pick up an abundance of greens, veggies, herbs, berries and more direct from their local farmers.
But for anyone looking for regionally grown mushrooms, the providers are a bit scarcer. Westminster West, Vt., however, is lucky to be the home of 1Up Mushrooms, one of only a handful of local mushroom producers in the area.
"We are one of the few small mushroom growers in the area and I am aware of only one other grower," said Conor Cash of his business that he runs with his father, Roy Cash. "I think it is unique what we bring to market. Just by virtue of the shelf life of an oyster mushroom, we are able to provide a nicer product than can be purchased at the grocery store… Our freshness is something special that we bring to the table. We also have a better price point at about 1/4 pound for just $5."
advertisement
For shoppers at the Bellows Falls and Putney farmers' markets where 1Up Mushrooms has a presence, not only are the mushrooms fresher and less expensive, but customers rave about their taste and their look, with many commenting to Cash on the visual beauty the mushrooms possess – so much so that some consumers are reluctant to cut and cook them.
Given that the business arose from a hobby of Cash's and he hopes to someday expand to year-round production, it is probably safe to both use these gorgeous mushrooms and to expect 1Up Mushrooms to be back with more the following week.
"1Up Mushrooms came from a passionate interest of mine, and I have been growing for about seven to eight years now. It began as a hobby and about four years ago I started with a farmers' market in New York. When we moved up here we started serving two farmers' markets," Cash said. "Eventually, we'd like to relocate. Currently, we are growing from a barn we've renovated, but I would like to move somewhere where we could be a year-round producer."
Cash is the primary grower for 1Up Mushrooms, while his father assists in the many machine-driven aspects of their operation.
"I work together with my father," Cash said. "He does the mechanical work, of which there is a lot of, and I grow the mushrooms. I make the spawn and do the bulk spawning and mix the spawn with chopped wheat straw and place it in bags and allow it to grow… He is a former sea captain, so he is jack of all trades. For example, air circulation is very important in mushroom growing, so he is the HVAC guy and I follow him in that aspect, and he follows me in the growing aspect."
1Up Mushrooms specializes in growing a type of oyster mushrooms that Cash isolated from the wild. He said that upon finding a tree in the wild covered with mushrooms, he took it home to the lab and as the strain is both productive and easy to grow it has become a mainstay. However, Cash will also be offering wine cap mushrooms, shiitake and lion's mane later on this season.
"The process begins in a laboratory setting," Cash described. "I take a small portion of living mushroom tissue and grow in a petri dish. That tissue is put into a liquid sugar solution that over 10 days becomes a slurry.
advertisement
"I pour that onto sterilized rye grain and the rye grain is colonized by the mushroom strain. It is then pasteurized onto wheat straw and bagged in columns which are hung in the grow room for about 21 days. The mushrooms fruit out of the holes in the bag."
Cash said that one of the most challenging aspects of growing mushrooms is dealing with the competitor organisms that might start to grow alongside the mushrooms, such as mold, yeast and mildew.
"You have to stay very vigilant because it can be very difficult once it is contaminated, so I try to be sure it is just the mushrooms growing," he said. "Hands down what I love the most is watching them grow. It is nerve-wracking, but delightful to watch them grow through the process. The farmers' markets are also fun, though, to explain a poorly understood product."
Another aspect of his business that perhaps not as many people understand is the name. For many children growing up in the 1990s, the Nintendo game "Super Mario Brothers" allowed gamers to receive an extra life for their character if they captured a mushroom, and thereby went 1-up.
"I liked how the name is evocative of the Mario Brothers World," Cash explained. "The 1Up mushroom gives you life (in the game). I've enjoyed the dual significance of the name and thought for years it would be a great name for a business."
Mushrooms from 1Up Mushrooms are available at the Bellows Falls Farmers' Market on Fridays from 3-7 p.m. and on Sundays at the Putney Farmers' Market from 11 a.m. to 2 p.m. Visit them on Facebook at facebook.com/1upmushrooms.org for more information.