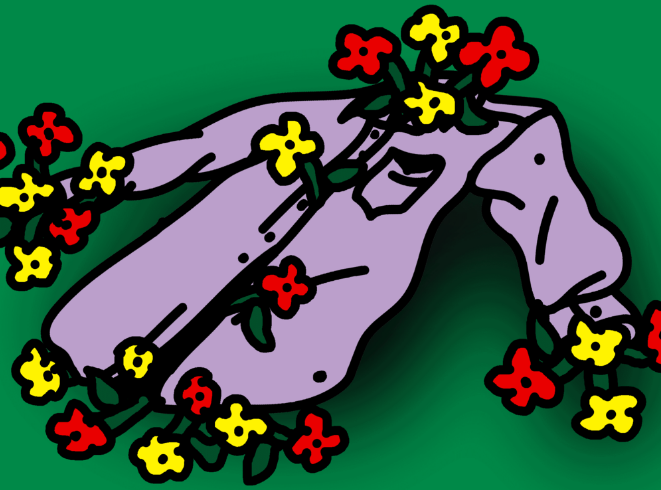 In a factory the size of an airport terminal, laser cutters zip across long sheets of cotton, slicing out sleeves for Zara jackets. Until last year, the scraps that spill out into wire baskets were repurposed into stuffing for furniture or hauled off to a landfill near the plant in the northern Spanish town of Arteixo. Now they're chemically reduced to cellulose, which is mixed with wood fibers and spun into a textile called Refibra that's used in more than a dozen items such as T-shirts, trousers, and tops.
The initiative by Inditex SA, the company that owns Zara and seven other brands, highlights a shift in an industry known for churning out supercheap stuff that fills closets for just a few months before being tossed into the used-clothing bin. Gap Inc. promises that by 2021 it will take cotton only from organic farms or other producers it deems sustainable. Japan's Fast Retailing Co., owner of Uniqlo Co., is experimenting with lasers to create distressed jeans using less water and chemicals. And Swedish retail giant Hennes & Mauritz AB is funding startups developing recycling technologies and fabrics made from unconventional materials such as mushroom roots. "One of the biggest challenges is how to continue to provide fashion for a growing population while improving the impact on the environment," says Karl-Johan Persson, chief executive officer of H&M. "We need to speed the shift toward waste-free models."
The $3 trillion fashion industry consumes vast amounts of cotton, water, and power to make 100 billion accessories and garments annually—three-fifths of which are thrown away within a year, according to McKinsey & Co. And less than 1 percent of that is recycled into new clothes, says Rob Opsomer, a researcher at the Ellen MacArthur Foundation, an environmental research group in England. "The equivalent of a dump truck filled with textiles gets landfilled or incinerated every single second," he says.
Inditex in 2016 made 1.4 billion garments, a scale that's helped its stock price almost quintuple over the past decade. But the industry's growth is slowing as millennials increasingly understand fast fashion's impact on the environment and exhibit a preference for spending on experiences rather than goods. Inditex and H&M have missed analysts' revenue expectations in recent quarters, and shares in both companies have lost about a third of their value since last summer. "Their business model is fundamentally unsustainable," says Edwin Keh, CEO of the Hong Kong Research Institute of Textiles and Apparel. "We all have enough stuff."

That creates an opening for companies to use sustainability to differentiate their brands. With growing concern over the waste, retailers have placed recycling bins prominently in many stores. Highlighting such initiatives in tandem with efforts to use greener materials can help win customers, says Jill Standish, a retailing consultant at Accenture Plc. A "bag that's made with grapes or a dress made of orange peels tells a story," she says.
To tap into this trend, H&M is seeking to make all its products from recycled and sustainable materials by 2030, up from 35 percent today. Since 2015 it's sponsored an annual contest in which startups developing technologies to make fashion greener compete for a piece of a €1 million ($1.2 million) grant. One of this year's five winners was Smart Stitch, a company that's developed a thread that dissolves at high temperatures, which could simplify recycling by making it easier to remove zippers and buttons. Another is Crop-A-Porter, which spins yarn out of field waste from flax, banana, and pineapple plantations. A third is working on separating fibers from blended fabrics, and others make textiles from mushrooms and algae. If any of those initiatives "succeed at a commercial scale, it would be pretty disruptive," says Vikram Widge, head of climate policy at International Finance Corp. and a former judge for H&M's competition. "Anything anyone can do is critical."

Inditex last winter started disassembling old clothing to spin into yarns for fashions it markets as "garments with a past." The company has grouped many of its sustainability efforts—clothes made from organic cotton, Refibra, and other repurposed fabrics—into a subbrand called Join Life. While the line grew 50 percent last year, it still accounts for fewer than 1 in 10 garments Inditex sells. To boost the share of greener textiles in its mix, the company is funding research programs at the Massachusetts Institute of Technology and universities in Spain. One initiative is seeking to use 3D printing to make textiles using byproducts from timber operations. Another is looking for ways to separate cotton from polyester in blended fabrics. "We're trying to find a more sustainable version of all materials," says Germán García Ibáñez, who manages Inditex's push to reuse old clothing and textiles. Today's recycled jeans, he says, are typically only about 15 percent repurposed cotton, because the fiber "gets worn down and we have to mix with new."

Inditex and H&M say that for now they're absorbing the extra costs of using recycled or reconstituted textiles. The Join Life line is priced competitively with other items in Zara stores, with T-shirts going for less than $10 and some jeans under $40. H&M likewise says it plans to keep a lid on prices of its greener materials, expecting the cost to fall as production increases. "We take it as a long-term investment instead of charging it to our customers," says Anna Gedda, who oversees H&M's efforts to clean up its operations. "We believe sustainable fashion should be affordable for all."