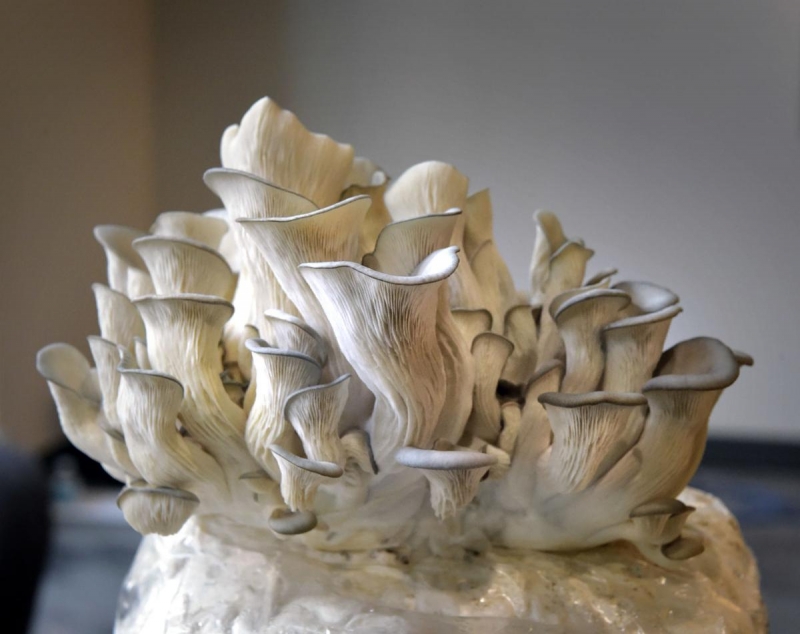 The mushroom room at Village Crest Farm is brimming with oyster mushrooms, both white and pearl, plus lion's mane mushrooms and golden mushrooms.
They're thriving in a space that's kept at about 60 degrees year-round, with 90 percent humidity.
Even if your home doesn't have a tropical environment, it's still possible to grow your own oyster and shiitake mushrooms to cook. In the wild, mushrooms grow on trees and in sprawling underground networks. In Chester County, mushrooms grow in warehouses bigger than two football fields.
One of the easiest ways to grow mushrooms on a much smaller scale is with a mushroom cultivation kit. Kits for oyster mushrooms and shiitake mushrooms are a good place to start because these varieties are easy to grow. There are also plugs packed with mushroom mycelium that can be placed inside a log or stump.
Oyster mushroom kits can be found at garden centers, hardware and department stores for $10 to $25.
Rohrer Seeds created its own made-in-Lancaster kit this year and sells it for $24.99. The Smoketown business had been selling kits made by another company. Its staff decided to make their own when they realized they were next to mushroom growers at the Pennsylvania Farm Show, says company president Doug Rohrer.
He turned to Village Crest Farm in Strasburg to make mushroom-growing kits. They sold well at the show, so they're now stocked at the Rohrer retail store on Old Philadelphia Pike.
"The same set of people buying garden seed packets to grow vegetables in their own backyard might have an interest in doing something like that," Rohrer says. "Particularly when it's the off-season and you can't be outside growing stuff."
The kits Village Crest makes will sprout oyster mushrooms about a week after the plastic bag in which they're stored is split open. With the right amount of moisture and light, the kit will soon produce 1 to 1 1/2 pounds of mushrooms, says Village Crest Farm owner Scott Breneman. The kits should fruit two to three more times every two weeks, with each fruiting yielding fewer mushrooms.
The kits are sterilized so a poisonous kind of mushroom will not grow. If things go awry, it will be aggressive-growing mold, not the wrong type of mushroom, Breneman says.
once the mushrooms are large enough to harvest, they can be sauteed, roasted or seared. The mushrooms can be used to top pasta or pizza, or they can be added to a stir fry or fried to make a hearty appetizer.